---
American Express® Gold Rewards Card
120 Cash Back from GCR upon approval

• New American Express® Gold Rewards Cardmembers can earn a Welcome Bonus of 40,000 points when you charge $3,000 in purchases to your Card in your first 3 months of Cardmembership
• Terms and Conditions Apply

RBC Avion Visa Infinite
$85 Cash Back from GCR upon approval

• Get up to 55,000 bonus points!
• You'll get 35,000 Welcome Points on approval and 20,000 bonus points
• Terms and Conditions Apply

Get 25% Referral Bonus
Get paid in cash 25% of all cash back rebates all your referrals collect


Great Canadian Rebates works in partnership with over 700 well known merchants. These outlets already offer great deals and savings, you save even more when you shop online as a member here. Once you register, you can save an average of five per cent more through Cash Back Rebates and even more using our coupons, deals, discounts and sales links.
All Finance

Financial Institution

Sub-category Highlights
We provide amazing cashback on online purchases!

Do you want to save your hard-earned money for a rainy day in Canada? Great Canadian Rebates is a top-notch cashback shopping site that allows you to access your favourite retailer?s online stores to get a certain percentage of your total price back in your account.

We offer some of the best rewards for different credit cards that will help you decrease your yearly expenses by a significant amount. We are associated with over 700 well-known merchants such as American Express, MBNA, Lowe?s, Indigo, Home Depot, Staples, Walmart, and more. You can stay up to date on the best deals and sales from all these top merchants so that you won?t miss out on getting some amazing rebates.

You can save at least 5% on average in cash back rebates, sales links, and coupons. Great Canadian Rebates is constantly getting updated with new discounts, sale exclusives, coupon codes, online sales, and more.


GCR Credit Card Cash Back Menu Get Up To $150 Cash Back




Up to
7% Cash Back!


Ends Mar 31




4% Cash Back!


Ends Mar 30




$7 Cash Back!


Ends Mar 31




$20 Cash Back!


Ends Jan 31




10% Cash Back!


Ends Jan 29






$125 Cash Back!


Ends Mar 31




$60 Cash Back!





$80 Cash Back!


Ends Jan 31




$100 Cash Back!


Ends Jan 31




$100 Cash Back!


Ends Mar 31



SALE OF THE WEEK
UNIQUE GIFTS IDEAS FOR VALENTINE'S DAY!
Surprise your wife or that woman you love so much with a special and different gift. In Hudson you will not only find furniture for your home, clothing, shoes, sporting goods, and electronics, but you also have a complete beauty department, with all kinds of perfumes from the best brands, makeup, skin care products, and much more! So buy that detail in advance and show that woman how important she is in your life. Click here to start shopping!
IRRESISTIBLE GIVENCHY Eau de Parfum /

Now $161!


With a floral, woody and fruity fragrance, Irresistible Givenchy is a perfume with different nuances that will invite her to relax and let herself go. This fragrance brings character and she will be impressed by the power it has to attract people to her, especially you. The fusion of the smell of pear and ambrette provide subtlety and vitality. Once she puts it on her skin it will last a long time, even until the next day. Without a doubt, this perfume smells like a spring in Paris!
Cilque Lustrous Silk Beauty Sleep Collection 2-Piece Pillowcase & Eyemask Travel Set /

Now $119!


With this 100% mulberry silk pillowcase and eye mask set, she will not only think of you every night before bed, but you will help her increase her comfort throughout the night, especially after a long working day. In addition, it is ideal for prolonging the appearance of the face, avoiding wrinkles and rashes, all thanks to the maximum softness it provides. It is an original gift that she will love!
Dior Lip Glow Oil - Nourishing Lip Oil /

Now $46!


If she likes makeup, Dior lipstick is an excellent choice. With it, she will be able to enhance the shape of her lips and give them the prominence they deserve. It is enriched with cherry oil, so it will help nourish her lips, providing moisture and softness, without a sticky or greasy feeling. It is available in 7 different colors including mahogany, berry, raspberry, coral and pink. Choose the one that best suits her personality!
Province Apothecary Dual Action Jade Facial Roller /

Now $46!


The double action jade facial roller will allow her to prevent and delay the appearance of wrinkles and expression lines. She can keep it in the fridge for a complete feeling of freshness and relaxation. It comes with two ends, a smooth one and a textured one that stimulates the muscles of the skin and she will be able to see results within a short time of using it. This roller is in trend and has become an essential part of a skin care routine.
See previous Sale of the Week offers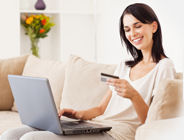 Shop online ...
Get Cash Back!